I have many people who ask about how to find the best clients, or what industry they should work with. My default answer is that it comes down to your interests and the personality type that matches with yours.
I can't tell you exactly what clients you should work with if I don't know anything about you!
But here are three good signs that you can look out for when you start working with other people.
1) Care About Their Image & Brand
Great clients always put more thought into their brand image and how they appear to their customers. I think the easiest indicator of this is their website.
Throughout my years trying to land new clients, there are some people that need to be sold why they need to get a website up and running for their company. They might not see the point of having one, especially if you can't guarantee any new business for them.
Business owners that care about their brand view their website as a necessity. That doesn't mean they will pick anyone to build it, or that they are getting great results from it, but they know it's not just a "nice to have" for their business.
An offline example of branding would be a home service business that uses lawn signs and logo wraps on their trucks. When I first started freelancing with web design I would've never thought that these tactics actually work. I only considered getting attention online.
But, I ended up working with a company in this area and added the question "How did you find us?" to the contact form.
Over the course of about 18 months, I was surprised that 30-50% of the people that contacted them through the website heard about them through a lawn sign or a truck in the neighborhood.
I should also mention that this company has its workers in logo t-shirts, the owner and sales staff have polo shirts, they give away pens, they have a full-color estimate form with their logo, etc. They are serious about getting their brand out there to gain brand awareness anywhere they can and as much as possible.
2) Obsess About Improving Their Business
Another common trait I see is that successful business owners are obsessed with improving their business. They don't work six hours a day and then cut it off – they are thinking about their business when they get up in the morning till they go to sleep at night.
They will email or call you at odd times, and that doesn't mean they expect you to answer 24-hours a day, but when you see somebody who is that passionate about something, it makes it pretty obvious why they have created a successful business.
That's the perfect type of business you want to attach yourself to.
3) Show Interest in How Things Work
Good clients show more interest in how things work behind the scenes with the website, and with online marketing in general.
One example that I've picked up on is when I started educating my clients over the phone, and I had spoken with them four or five times, they will reference something from the first conversation.
They actually listen when I'm trying to explain the technical stuff. Bad clients are ignorant and don't want to know the details.
Frankly, this was one of my worst skills years ago. I had such a hard time breaking down the technical side of web design into simple language.
Good clients want to understand some of this stuff so they can give you ideas. They might say "you mentioned this a couple of weeks ago, how can we test a new idea related to that?"
This is when good stuff happens. When you have multiple brains working on an idea instead of just you.
Basic Principles
Here are a few basic principles that I have come to believe as the norm:
80% Bad Clients, 20% Good Clients
When I say bad client, I don't mean they are a "client from hell" or a terrible person.
They could be someone who just doesn't have the income at this point to give you enough money to compensate for your value. That also doesn't mean they aren't going to grow into it!
With that said, you might have to work with five to ten people to figure out which ones are going to be the good ones and which are the bad ones.
If everyone was a good client, freelancing would be easy.
Good Clients Bring 10-100X More Lifetime Value
Over the long term, good clients are going to bring you 10-100X more value. This is especially true with the way I like to operate my web design business, to go after clients who pay monthly.
I want people paying on a recurring schedule so that I have sustainable money coming in that I can predict in advance. I don't want to have to rely on getting ten new projects a month to make it a good month.
Then when you build a relationship with someone, they will look to you before others to implement new projects. That's why you must invest in continuous learning and personal development.
Ignore Their Business, Look at Their Life
Another thing I have done is look past the person's business and look at them in their life. Look at their house, where do they live, what is their landscaping like?
This is an advantage of meeting a person. You can see if they take care of their home and if they take care of themselves.
Do they exercise, have hobbies, do interesting activities you like to do? This is a great way to cultivate a long term relationship. Find people with similar values as you, so even when times are bad you can still have a good conversation with them and not feel like you are going to get chewed out.
When you form a strong relationship, you are motivated to improve your own performance. It's added responsibility and accountability for yourself when you develop the connection with them.
Look at clients as regular people to determine if they are disciplined and whether they are the type of person you would like to become in the future. I think that's a really good barometer.
Managing Expectations
All Clients Expect Great Results
Every client, whether they pay you $5/month or $5,000/month, is going to expect great results.
That means some are going to be unrealistic about how to achieve those results. In my experience, those are cheap people. Those are the ones that pay you less because they expect to get the same results as someone who is paying $2,000 a month when they are paying 10X less than that.
More $$$ = Better Project
Your ability to finish an awesome freelancing project gets easier as you make more money because then you are willing to put in the time and go the extra mile.
Maybe you have the option to outsource some work to get even more done faster. You are then able to invest in your own skills to find new ways to create value through other marketing methods.
Create Partnerships
The best results come when we treat the business relationship as a partnership, not like a 100% outsourced situation.
My worst clients generally think that they can give me X amount per month, never talk to me, and never provide any content for the website. They don't tell me anything about their business, and therefore it has no transparency.
These clients give me the most basic information to get the website up and running, but they are not interested in developing a presence online or getting more reviews.
I have had a few clients where I had to downgrade their package because they fit into this box. We had a conversation, renegotiated, and now it's the same deal where I barely interact with these clients.
They are still paying me monthly and they have more realistic expectations.
Fast, Cheap, Quality: Pick Two!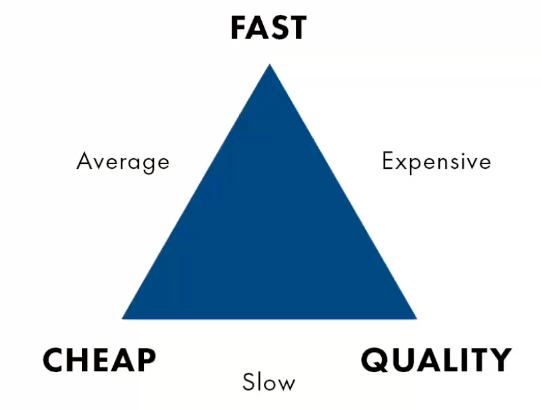 I remember seeing this image about five years ago and it's always stuck with me when it comes to business. You can only pick two when you buy something – fast, cheap, or quality.
If you go fast & cheap, it's an average quality product/service.
If you go cheap & quality, it's a low priority and takes time.
If you go fast & quality, it's going to cost you.
The people that are unrealistic expect all three, and that doesn't exist as long as you want a long term business.
Start making money today with a step-by-step business blueprint!