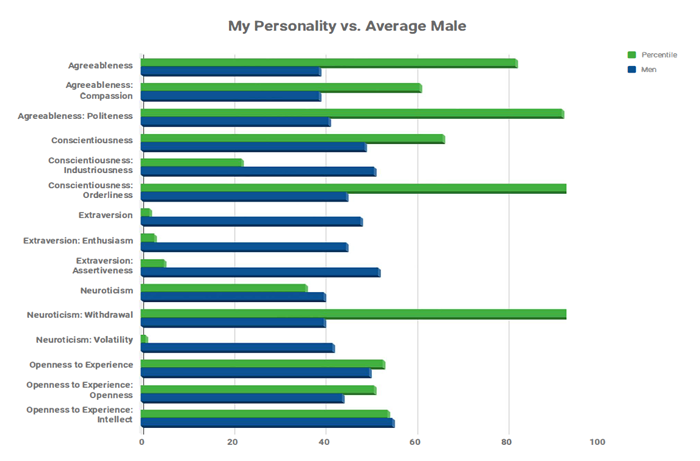 Are you an organized person? I took a personality test, and here's where I'm unique compared to the average male:
Orderliness – 93rd Percentile
Withdrawl – 93rd Percentile
Agreeableness – 82nd Percentile
Extraversion – 2nd Percentile
Volatility – 1st Percentile
There is so much I could say about these numbers, but they are incredibly accurate.
I react little to good or bad news, I'm introverted and dislike being at large social gatherings. I avoid confrontation when possible. I stay humble and listen to others well, selfishly because I want to learn from you!
I believe my #1 skill is organization.
Messy spaces bring me anxiety and prevent me from doing effective work.
Here's a funny dichotomy – in order to be effective and push the boundaries, you have to get messy and test things.
The Process:
I get consumed by a project and use my desktop (both computer and physical) as my workspace.
Other things get pushed aside and begin to accumulate.
I feel overwhelmed because of the mess which may include emails to respond to, papers spread everywhere, to-do lists on index cards, random files on my desktop, bills to get to, administrative tasks like accounting.
I spend a day where my only goal is to knock out these tasks, organize the mess, and re-prioritize. I digitize any written notes that are important or schedule to-do's on Google Calendar.
Repeat.
For me, organizing is oddly therapeutic. I do it willingly to procrastinate more important work, the way others might watch TV. However, it always leads to better results in the days after.
Read one of the best books on the topic…
15 Tools to Start Your Web Design Business
Want this helpful free giveaway or training?