This is a high-level WordPress 101 tutorial for beginners or people looking to learn how to build websites on the foundation of WordPress as a content management system.
Let's touch on all of the essentials, including:
✅ An explanation of WordPress
✅ A tour of the WordPress "admin" dashboard
✅ How it works to make your site
By the end, you'll understand how to use WordPress to manage your website!
Don't have a website yet?
I recommend you sign-up for my website beginner's training below where you'll get this video and many more to take you through each step at your own pace.
It'll give you a much better understanding of the entire web ecosystem, whether it's how web hosting works or setting up WordPress from scratch.
5 Types of People Who Learn WordPress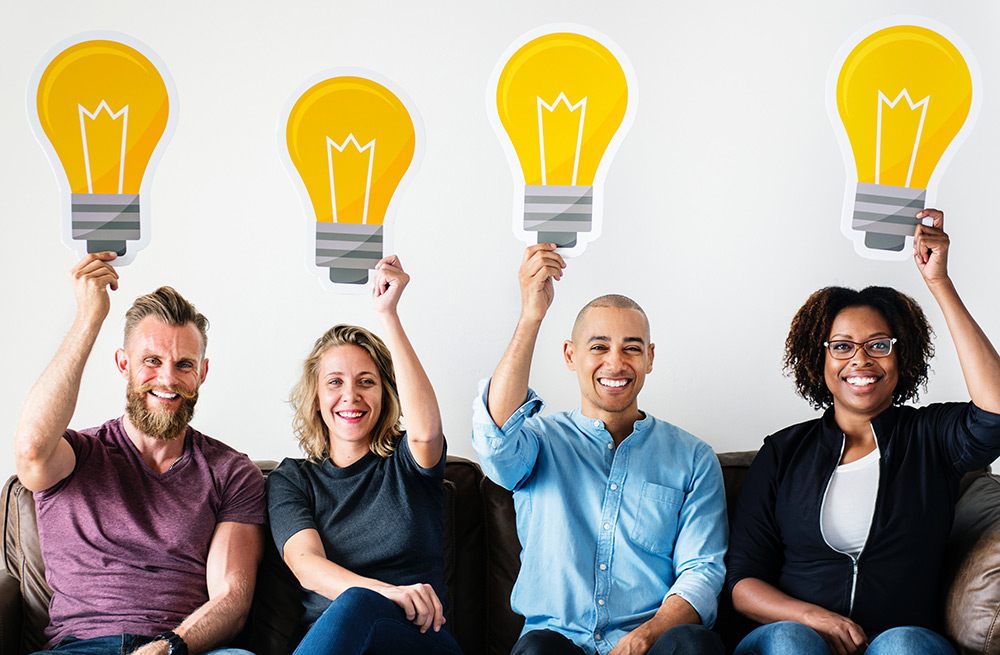 There are five profiles who are using WordPress more frequently than the average person.
Bloggers
WordPress started as a blogging platform and so it has and will be the number one blogging tool for years to come. It has since grown to be a great framework for any type of website, not just blogs.
Web Developers
A lot of web developers who are good with code or maybe they have a job at a bigger company are learning WordPress. It is a pretty adjacent skill to what they're doing and it's a good way to get into freelancing if they want to branch out and do their own thing.
Computer and Tech Geeks
Another big group of people that I find that become interested in websites are just computer geeks and I would classify myself as this!
I have a coding background from college, but I wouldn't consider myself a web developer – though I can get up to speed with how a piece of code works quickly.
The next level are the computer geeks who love gadgets and games, but their not into development. They can gravitate towards building websites to scratch that technology itch without needing to know code.
Business Owners (DIY)
This next group of people are those that absolutely need a website to advertise their goods or services. Maybe to save some money, they decided to go the DIY route and started using WordPress to build their site. WordPress is that easy to learn and scalable enough for entrepreneurs to build on.
Job-Escapers (Work From Home)
Probably the biggest group of people, these are simply those that are in jobs they don't like and want to find a way to escape. Maybe they want to freelance, maybe they want to create their own website and make money through affiliate marketing. It really has less to do about what type of job they're in right now and more that they want to find some type of work online that's fulfilling
Why Use WordPress vs. Other Options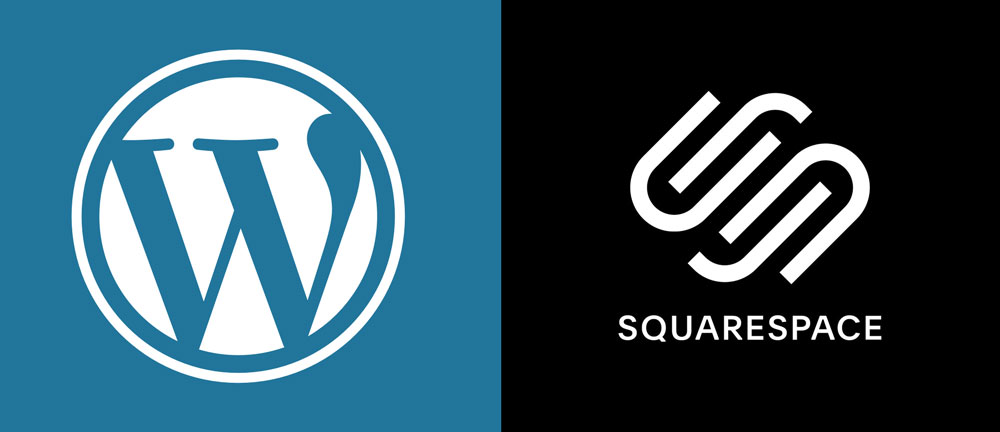 Let's break down why you would use WordPress over other options out there. This is broken down into experience levels.
Zero Experience
People who have zero experience, are probably not going to jump right into WordPress. It is a step above the most basic web builders out there that all the hosting companies offer, or even the big ones like Wix, Squarespace, or Weebly. They're the big services that allow you to create free websites or low cost websites and they have their own drag and drop builders. Their settings are kept to a minimum so it's really easy for the user.
The main downside to those services is that you're going to be locked into whatever service you select. You can't migrate a Squarespace website to new hosting because it's using their framework and their design.
Some Experience
If you have some experience, you're probably going to select some type of framework. The key here is that you want to select an open source framework, which means that the company that creates that framework releases all the code and most of these are free.
WordPress is actually free software. It is known as a content management system and used for websites that have a lot of content because if you were doing that manually with code, it would probably be a lot to handle.
There are other frameworks out there that use HTML or JavaScript. If you want to get into the code side of it and not use a system like WordPress, you can still do that but not have to start from scratch.
Expert Users
If you are an expert, you have plenty of experience with code and development. However, you still might want to use WordPress and take it to the next level with some custom design or code. It is possible to create your own themes and frameworks within WordPress using code. The possibilities are endless!
WordPress is my number one choice for control and flexibility. You can build your WordPress website, learn WordPress, and have a Swiss army knife at your disposal to do so many things that you couldn't do with lower end services. If you ever need to transfer a domain or go to a different web host, you can take your website, move it from host to host, and not get locked into one company.
WordPress.COM vs. WordPress.ORG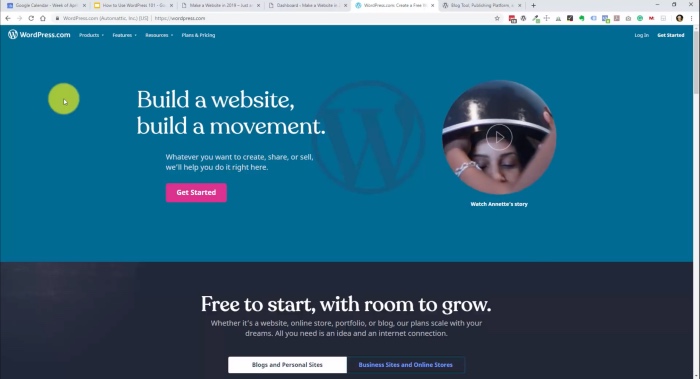 There is one really big point of confusion for beginners and that is the difference between WordPress.COM and WordPress.ORG.
The image above shows the homepage for the .COM version of WordPress. This is where they offer to host your website on their servers. If you want WordPress to host your website, you want to go to WordPress.COM.
The thing is, they don't give you the full version of WordPress unless you're on one of the higher-level packages. You will be limited in what you can and cannot do.
That's when you need WordPress.ORG!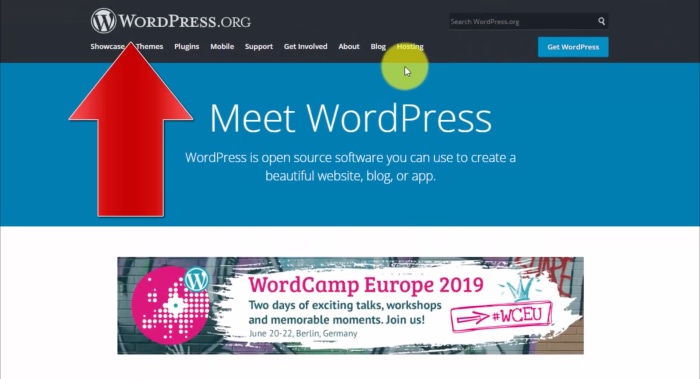 WordPress is open-source software, and you can download the full WordPress framework for free, you simply need to install it on your own hosting account.
Check out this video on the best WordPress hosting companies:
Many hosts give you the option to have WordPress installed at the click of a button.
Using WordPress on your own hosting account gives you the ultimate freedom in how you can build your website. You're only limited by your imagination and knowledge.
I always use WordPress in this way, and the hosting company I've been a customer of the longest is HostGator, click the link below to start now!
WordPress Admin Overview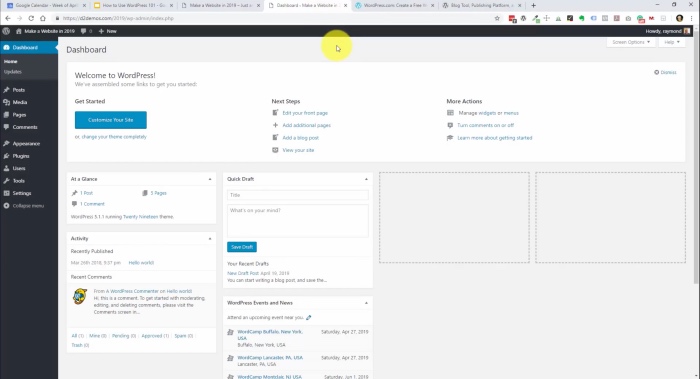 Here is the backend of a WordPress website also known as the admin area or dashboard.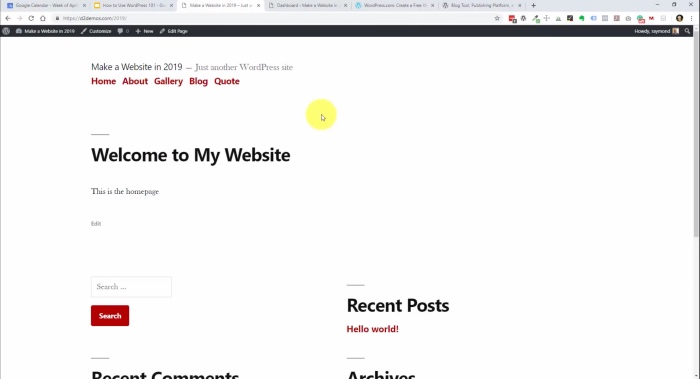 Before diving into the admin dashboard further, here is a look at the frontend of the website. This is a very, very basic design and it's geared toward blogging. You could see here we have comments, categories, posts, and archives. If you were going to start blogging, this will be a great way to do it and just get started. Over time, you can refine the design. You don't have to start with a great design, in fact the content is probably more important to get traffic. You can get an idea of how to design it around the content instead of the other way around.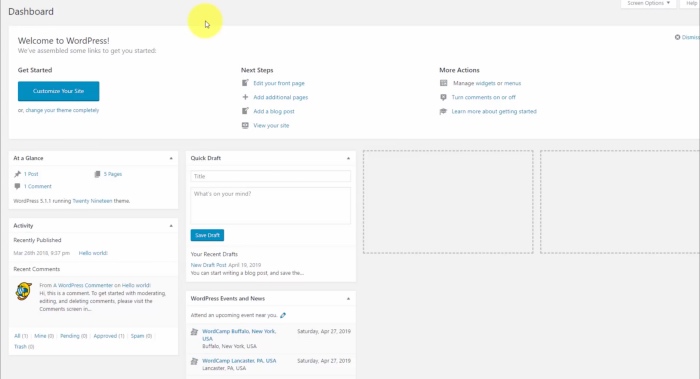 Returning to the admin backend, when you first log in, you're going to see the dashboard and this is really just a one page overview of your entire site. You can see how many posts and pages you have, how many comments there are, what version of WordPress you're running, and what theme you have. If you want to quickly type out a blog post, you can do that right from the dashboard. They also show you local events that you could potentially go to to learn more and meet other people that are involved with WordPress.
Let's do a quick overview of the Admin Menu.
Dashboard and Updates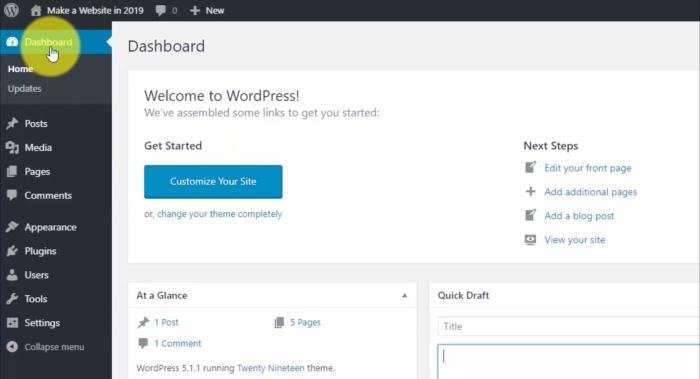 On the left hand side, you're going to navigate the admin area using this menu. The dashboard, which is the first page you see when you sign in, is the top link. Just below that is the updates section which is going to show us our updates of the WordPress core software and other software that we have installed with WordPress, otherwise known as plugins.
Posts
Next, we have Posts. These are typically used for creating blog content. This is where you go to view existing posts, create new ones, and organize them by categories.
Media
Following, the media section organizes the media that you upload, such as, images, audio files, or PDFs that you add to a blog post or page. The media section let's you review all the attachments that you have with your WordPress website.
Pages
Next, we have pages which are similar to blog posts, but instead of them being dated, they're really static and evergreen. Pages are basically the web pages of a website like an about page, a services page, a testimonials page, or a contact page. Content might change on the page, but the page itself won't change and it's not based on a specific date or event.
Comments
Moving down, the comments section is where you can control the comments you might receive on blog posts. If you allow comments, they can be approved and monitored. Sometimes you can get someone spamming some product or not contributing to the conversation and this is where you can allow or delete them.
Appearance
The appearance section is the big one because this is where you're going to get your design. With WordPress, your website design can be changed by installing themes. There are thousands of themes out there that you can choose from, plenty of free ones and paid options. You'll also find niche specific themes and you might find a theme for a particular business industry or even geared towards e-commerce. The main difference between free and paid is that when you buy a paid theme, you're getting probably a better design and consistent updates. If they update the code in the future for the theme, you'll get access to that. Of course you'll get better support if you run into any problems when you're using a paid theme and with free themes, you've got to do all the support yourself.
Plugins
Then we have the plugins section and where we add functionality. Similar to themes where anybody can develop a theme, you also have software developers that make WordPress plugins. Plugins add a specific function, whether it's for social media, SEO, or contact forms. There are backup plugins, optimization plugins, calendar and booking solutions, membership framework plugins, and really just about anything. You know the saying, there's an app for that? With WordPress, there's a plugin for that. Themes and plugins are what make WordPress so awesome because you can grab other people's designs, other people's code, other people's work and build off of that without having to start from scratch.
Users
Next, we have the user section. This is where your admin account will be listed and if you want to create new users and give them access to your site, you can do that with various levels of access. You can create another administrator, or you can create an editor and they'll have access to all your blog posts and pages. You can also create an author, who can write new blog posts, but not have access to older posts or other areas of your website. That way you can protect your website from somebody making a change and breaking the website.
Tools
Further down, we find the tools section. I don't use this that often, but you can see they have import and export along with erasing your personal data. Import and export come in handy if you want to move your WordPress website to another WordPress install. You'll be able to export you posts and pages and then import them into the new install.
Settings
Finally, we have our WordPress settings. Here, you can control the time zone, how dates and times are displayed, or edit your website's title. You can also control how the page and post links appear in the URL bar or edit whether people are even allowed to comment on your posts.
Next, we'll dive in deeper and go over the important aspects of pages and posts.
Posts vs. Pages with Content Blocks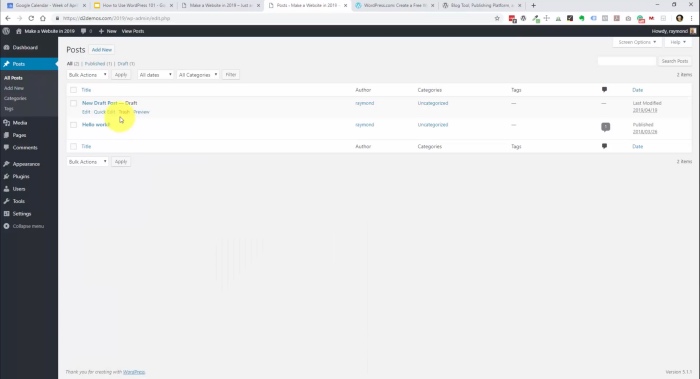 Posts
The Posts area is where you create new posts or edit existing ones. I have one published post and then I have one post which is in draft mode. You'll notice up above the list of posts, they show that you can filter out every post published posts or only draft posts. You can search for specific posts or filter specific dates or categories. If you trash one of these, then you'll also see a trash link. You can also see specific tags if you use those or even the number of comments there are on a post.
Let's jump into one of these posts and take a deeper look.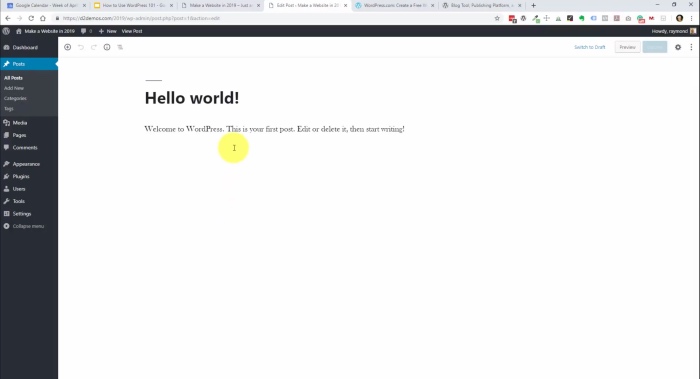 When you install WordPress, it automatically comes with this Hello World post. It is an example blog post created just to show you what a post looks like. With the new version of WordPress, they made a really big change to how you edit your posts and pages with the Gutenberg block system. It allows you to essentially build your content using editable blocks. Right now, you're looking at the title of the post and this is a paragraph block.
They have blocks for various types of content for your posts and pages. We can add paragraphs, short codes, HTML buttons, and we can embed links. We can even add images from our media library or upload them here in the post. They even have blocks for YouTube and other services to allow you to quickly share content from those sources.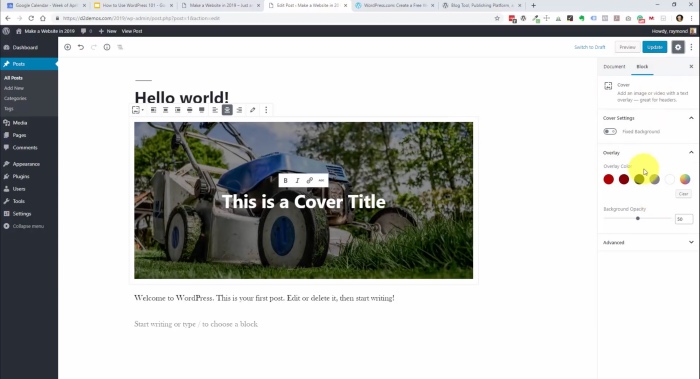 Here, you can see the post now has an image block with a title overlay. On the right hand side, we have document settings. If we click on a block, you'll get the settings for the individual block you're clicking on. We also have paragraph settings and they give you ways to customize and style these various blocks. I think it's important for you to just play around with this within your own website and get a feel for how you're going to use it.
Pages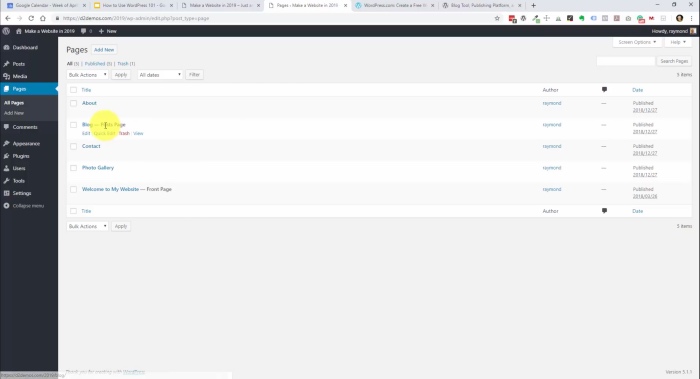 The pages editing experience is pretty much the same as posts. There are just a couple of differences:
You don't have categories and tags.
Pages are where the content, like posts, live.
In our example, the blog page is assigned as our posts page. When a post is created and published, it will automatically go on the blog page In chronological order. The Welcome To My Website page is set as our Front Page, or homepage and can be edited to include the content we would like displayed front and center.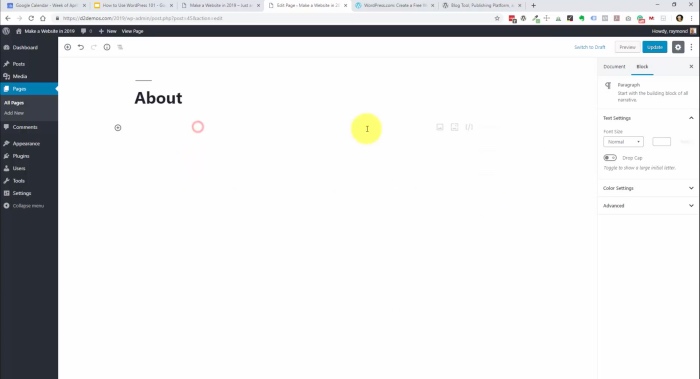 If we go into one of the pages, you can see the editing environment is virtually the same as the posts. We can build out the page using blocks just like on the posts.
If we click the plus to add a block, you can view all of the different kinds of blocks you can add. It'll start with the Most Used blocks that will change with the blocks you most use over time. If you scroll through the menu, you can see all of the different blocks you can add with the different drop downs. Let's go over that menu and cover the blocks you'll use most as it is pretty extensive:
Common Blocks
Paragraph – This is what you're going to use for most of your content. It includes formatting options just like in a word processor.
Image
Heading
List
Gallery
Formatting
Most of the blocks here you most likely won't use like custom HTML code. However, you'll probably use Table at some point to portray data or information in an organized table.
Layout Elements
This one might also be rarely used, however there are a few here to mention:
Button – This adds a clickable button that can have a link to another page or website.
Columns – This will allow you to organize areas of your page into two, or three columns.
Media & Text – This is a cool one which will allow you to add an image or video with supporting text next to it.
Widgets
These are handy bits that can control information and create functionality on the page. Widgets allow you to add a calendar, show a list of your latest posts, show the latest comments, or even add a search bar to your page.
Embeds
There are a lot of options here, but essentially these allow you to include content from other websites or social media sources. For instance, you can add a YouTube video, your Facebook page link, your Twitter profile, or your Instagram images.
The Gutenberg system has made building posts and pages a lot more fun and efficient. There are a lot of blocks and I encourage you to explore as you build your pages.
Media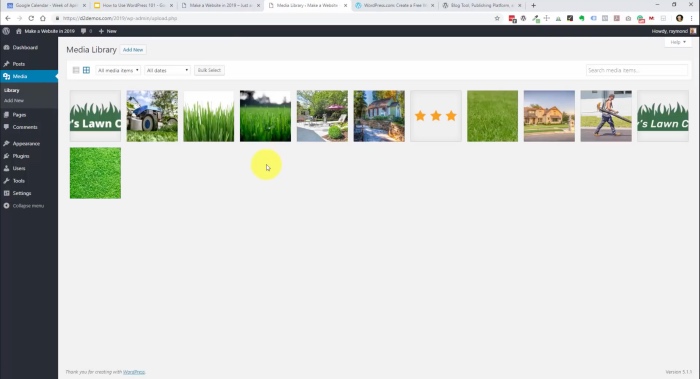 Jumping into the media section, let's take a quick look at how the images and graphics are organized. WordPress puts all your uploads in this grid format which can be keyword searched or filtered to find specific media.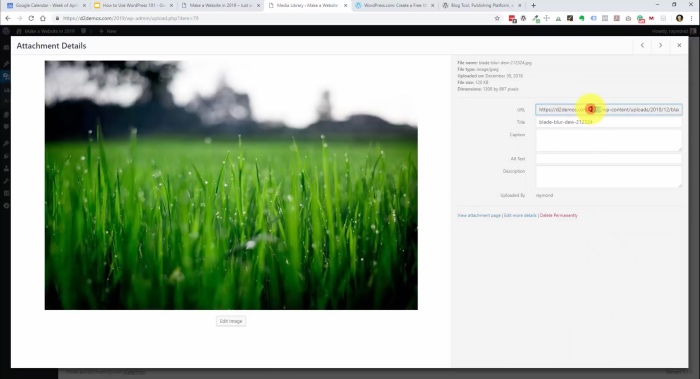 You can click into them and they'll give you the URL if you need to copy and paste that. You can also edit the image's information like it's title and you can give it a caption if needed here, but you can also do that later within the block editor.
One thing to mention here in your website planning is that WordPress will take any size of image dimension and resize it to fit the content. This is great, however, images with large dimensions tend to be very large in megabytes and will take up a lot of server space. They can also take a long time to load in the browser. If you have an image heavy website, take the time to resize and optimize before uploading.
Themes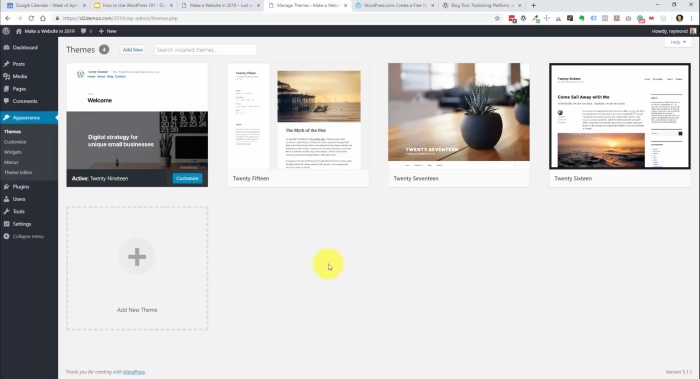 This is going to be arguably the biggest decision that you'll make with your WordPress website. What theme will you use? Themes set the stage for your content, brand, or personality and there are plenty to choose from. You want to pick your theme based on the type of website you're building. Is it a portfolio website, is it a blog website, is it a business website, is it eCommerce? The choice is yours.
On the themes page, you'll see in our example there are four themes installed. All of these are created by WordPress and a great default themes to get started with. Over time, you can test new themes and make a switch by clicking the add new button. This will take you to the WordPress themes repository. Most of these are going to be free and some have paid upgrades.
Another option that is great for beginners is to use a theme and framework that offers a drag and drop builder. One that has set the standard for page builders is Divi by Elegant Themes, who I am an affiliate of. It essentially let's you create your own design all the way, instead of letting the theme fo it for you. I have a full tutorial and if you signed up for my beginner sequence, you'll get that in a future email as well.
Customize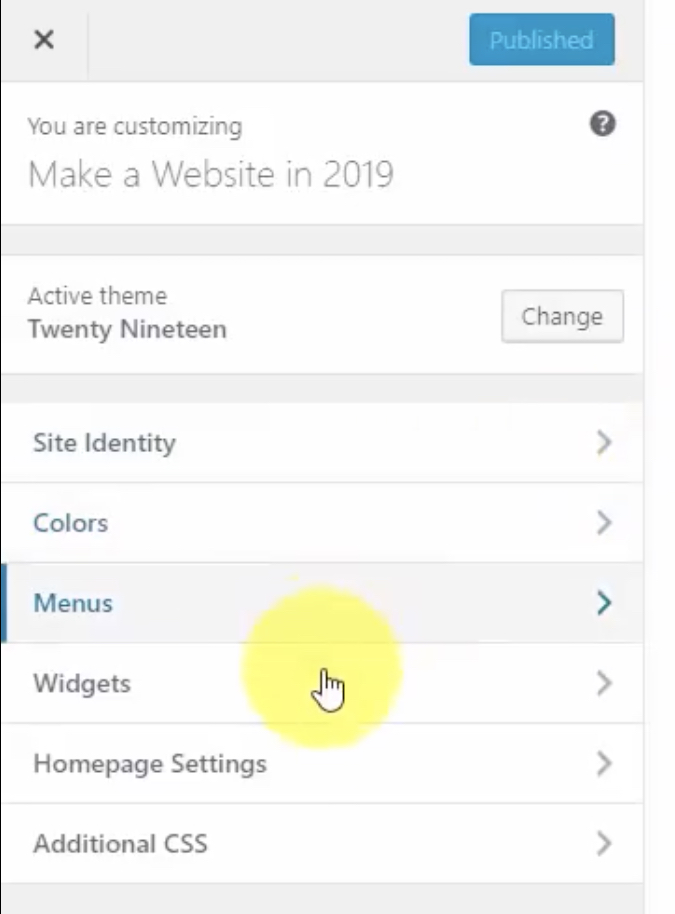 Next, we're going to take a look at Customize which is a submenu item under Appearance. These settings are going to be dependent on whatever theme you have installed. There are a few overarching settings that are on every WordPress website, but theme developers choose what parts of the theme that you can customize and every theme does it differently.
I recommend that you go through the settings and figure out the various things that you can customize on here. Typically, you can change font colors, font styles, and control the menu items for your navigation. You can even edit your website name in Site Identity and control which pages show as your homepage and blog pages in the Homepage Settings.
Menus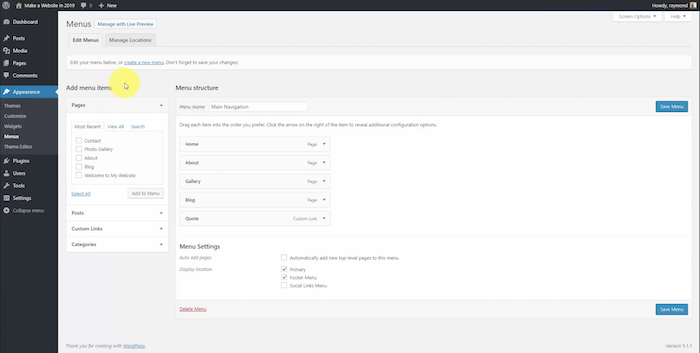 In Menu, this is where we create the navigation for our site. Usually one of the first things I do when I create a website is create a main navigation menu. You can create a new menu by clicking the create a new menu button. When created, you can give it a name to help you organize your menus should you have more than one. You add links to the menu by adding your published pages or your posts from the left side of the screen. Then once they're on the menu section, you can drag and drop them to change the order. You can drag them inward if you want to do a sub menu or sub item for a nested, expandable menu.
Widgets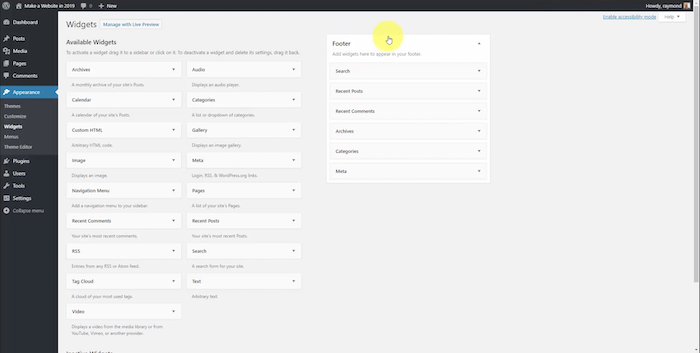 Widgets are like little bits of reusable content that can be placed in different areas of the website. This is another thing that's theme dependent. Developers are going to create areas of your website where you can use these. Some of these widgets allow you to display a search bar, navigation in the footer, show recent posts, comments, archives, and a list of categories. I you want to add in this type of content, the widget system allows you to drag and drop them where you need them on the them. Typically, you'll find you can add widgets to your theme's footer and/or a sidebar area.
Plugins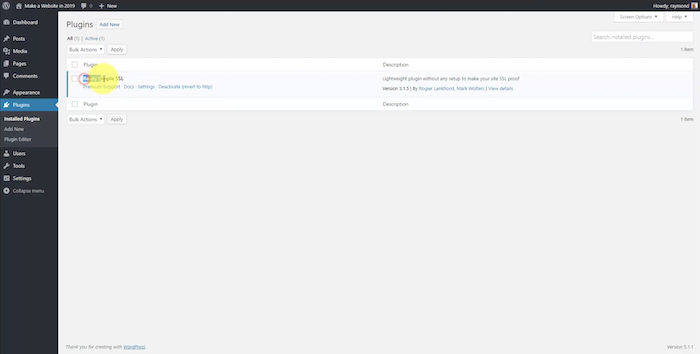 These are really the meat and potatoes of a WordPress website. Plugins add functionality to WordPress and can do anything from displaying an interactive calendar to full fledged membership systems. The first screen is going to list your currently installed plugins. It is going to list them in order and show whether they are active or deactivated and will give you extra information like version number and the developer. If you need to remove a plugin, this is where you go to delete them.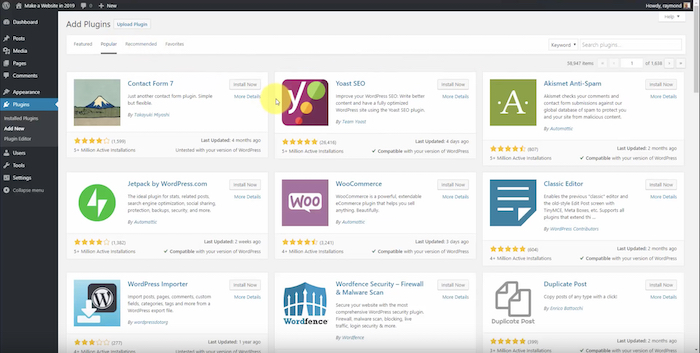 Browsing and adding new plugins is a lot like looking for a theme. You can search for plugins in the WordPress repository and filter them by popular or recommended. When looking for a new plugin, it's important to note the ratings as well as how often the plugin is being updated and maintained by the developer. You don't really want a plugin that has a poor rating or hasn't been updated in 3 years because it could actually put your website at risk. Just make sure to click on the plugin you're interested in and and look at it's details to make sure it is something you really need. Try to limit the amount of plugins you have installed by 10 or less. Too many plugins can cause conflicts and slow down your website.
Users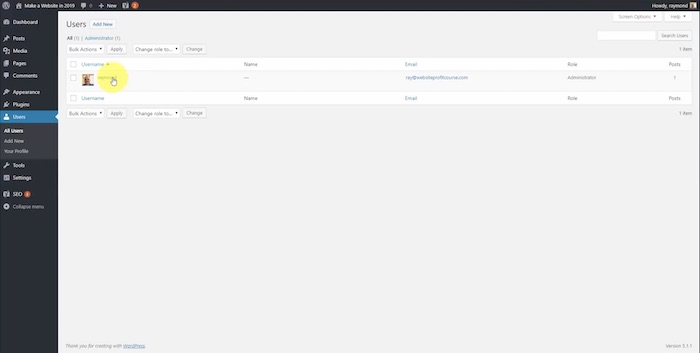 This is where you can find a list of user accounts. Unless you plan on inviting others to collaborate on your website, this will really only list your own account. You can see that your account role is an Administrator. This is the top level user role and gives complete access to the website. The other user roles change the access level and what each user can and cannot do on your website. The other possible user roles are:
Editor
Author
Contributor
Subscriber
If you click Add New, you can see where the user information is added as well as where a role is given. That's the way that you can divide up access to your site to make sure that somebody that doesn't know that much about WordPress can't break your website or access areas that they shouldn't have access to.
Settings
General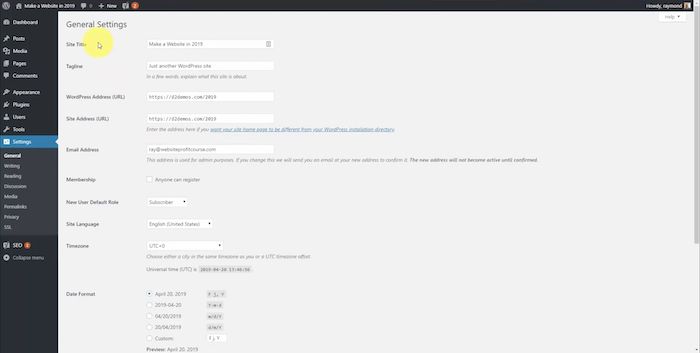 This is where our site title and tagline are listed as well as:
URL
WordPress address
The admin email address
Date and time format
Time zone
Writing settings
Default blog settings, default post category and post format
Most of these default settings will be just fine for your needs, however you might want to change the time zone and your date and time settings to match what you use locally.
Reading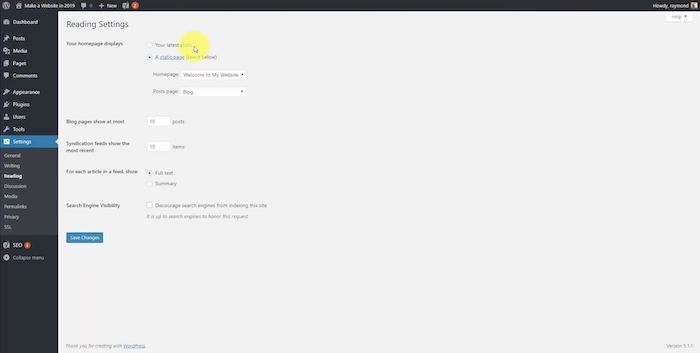 By default when you install WordPress, it's going to show your latest blog posts on the homepage. Now that's okay for a blog, but if you have a business type website, you probably want to build out a homepage separate from a blog page. Normally when I'm dealing with business websites, I always create a homepage and a blog page as my first two pages in the pages section. I'll then go into the reading settings here and assign them to make sure that my website is showing a static page for the homepage and all the blog posts go to a predefined blog page that we set and name whatever you want.
Another setting to take note here is the Search Engine Visibility option. If you check the box, it will discourage search engines from indexing your site. In other words, you won't be visible on Google. Unless this is a personal website that you don't really care about anyone finding, it's important to leave this box unchecked especially if you have a business website or blog that you want people to find through search.
Permalinks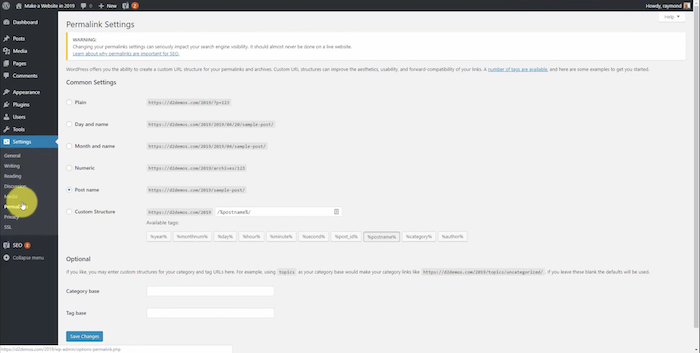 When you first setup your website, you'll want to come here and setup your link structure. WordPress can set up these elaborate URL structures to put the month or the name of the post or page. I always pick the post name permalink setting so that the actual name of the post or page is included in the URL instead of a number. This can really help with the user experience on your website. When I first install WordPress, I go in here and set that from day one before I create any posts or pages.
In Closing
I hope this has helped you out and I know I could've went on a lot longer. However, I wanted to keep this as short and useful as possible so that you can get your WordPress website up and running as quickly as possible.
Would you prefer to learn in chunks?
Get training sent directly to your inbox!