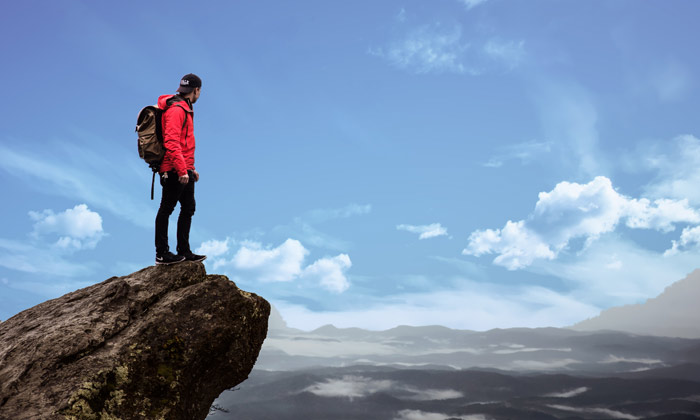 My approach to self-improvement is simple, though it takes patience: advance one part of your life each year.
This philosophy came from the hindsight of looking at my top priorities over the past decade. I wasn't working on an established agenda the entire time.
For many years, I was drifting and trying to figure out the direction of my life. I just knew I didn't want to take the standard path of employment.
Here is a look into my #1 focus by year :
2020 – Outsourcing
2019 – Scheduling
2018 – Finances
2017 – Exercise
2016 – Diet
2015 – Sleep & Gardening
2014 – Creating Niche Blogs
2013 – Promotional Products
2012 – Homebrewing
2011 – Business & Freelancing
2010 – HTML / CSS / SEO / WordPress
2009 – Finish Grad School
As time goes by, I become more obsessed with what it takes to reach your full potential. It was, and is still clear that I'm not close and have plenty of work to do!
You can call it "self-help," which rubs people the wrong way. I know I don't like the shallow motivational tactics that come along with that broad category.
Instead, I now search for virtual mentors who've accomplished something I want to achieve and consume all their content – books, podcasts, blogs, videos.
Many of my current ideas come from my "tree" of teachers, the three most prominent being Tim Ferriss, Jocko Willink, and James Altucher. Tim introduced me to both Jocko and James through his podcast. Almost all the people I follow have a connection to one of these three guys.
The good news is there is no shortage of information available in our global online world. If you are willing to make a change in your life, you'll figure out a way to do it, or find someone who can help you.
Prioritizing Health vs. Wealth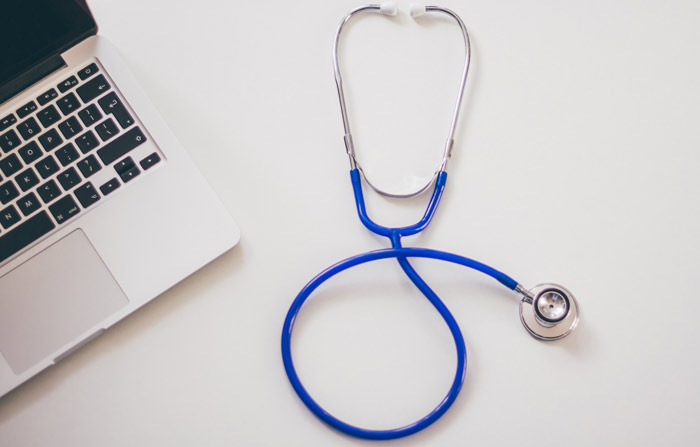 My physical health slipped as I spent far too much time sitting at the computer.
I was going to bed at 4 AM. I was working on a bright screen at night, which threw off my sleep schedule. I was gaining weight and feeling less energetic.
Every winter, the daytime hours got shorter, and I would barely see the sun. That's when seasonal depression hits you unexpectedly, and your productivity is gone.
As this became a yearly routine, I prioritized fitness over business development from around 2015-2017.
How to Form Life-Long Good Habits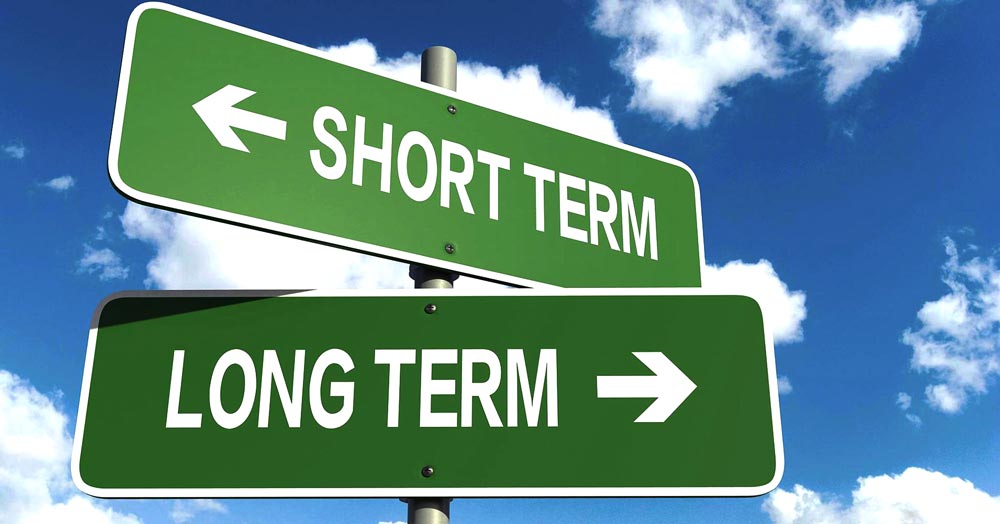 Have you heard the saying that it takes three weeks to develop a new habit? I'm here to tell you that's false.
You start to feel comfortable around 3-6 months.
Locking in a habit where it's completely mindless takes 12-18 months. Anytime before this period, you are vulnerable to reverting to your old habits. My theory is that going off-course for three straight days will destroy your progress in the early stages of acquiring a positive habit.
The perfect example is my current focus: scheduling.
I worked spontaneously for many years without planning and operated mostly from written to-do lists on index cards. You'd be shocked how much I accomplished purely out of curiosity and stubbornly working through problems for hours at a time.
It became unsustainable as I was managing multiple web design clients and growing personal blogs at the same time.
So in August 2018, I began to track all my hours using Google Calendar. In the beginning, I would do work and then log it on the calendar at the end of the day.
After a few weeks, I was getting better at scheduling out my day in advance.
My three most significant problems were:
Over-ambitiously scheduling too much in one day
Not leaving free time between tasks
Not scheduling fun things as a reward
After a few months, I built a spreadsheet to log my total productive hours and chart them weekly. I also categorized my time into client work, personal websites, and future projects to see the % breakdown.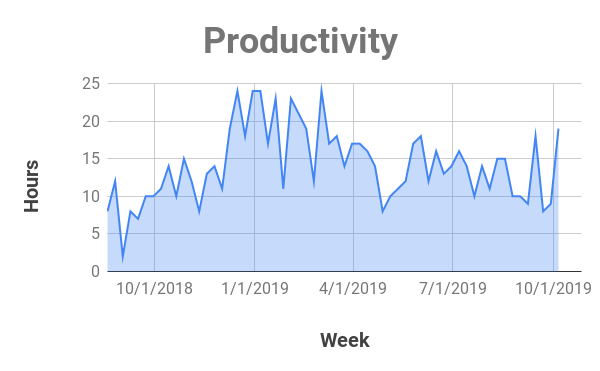 It's been about 14 months since using a calendar for all work, and I'm finally planning full weeks.
I know my ideal work periods and when I'm least productive. I'm more protective of my own time and less likely to say "yes" to off-the-cuff requests that sidetrack me. I have a much better grasp of the timeline to push a project forward and how to divide it into smaller chunks for the calendar.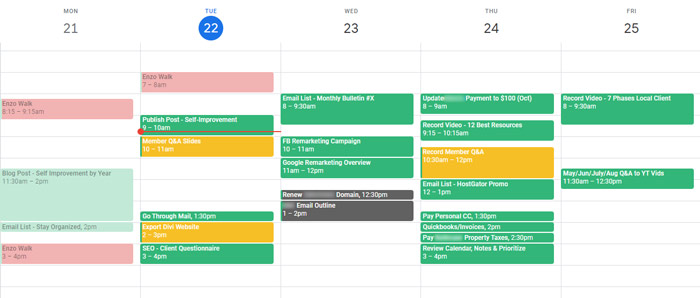 It's excellent progress, but consider that many highly prolific business people have their entire year set on January 1st!
The biggest lesson is that not only do you need discipline, but you also require flexibility for unexpected circumstances. When they happen now, I'm better at shuffling things around and making it work without blowing up my entire schedule.
Balancing a Successful Life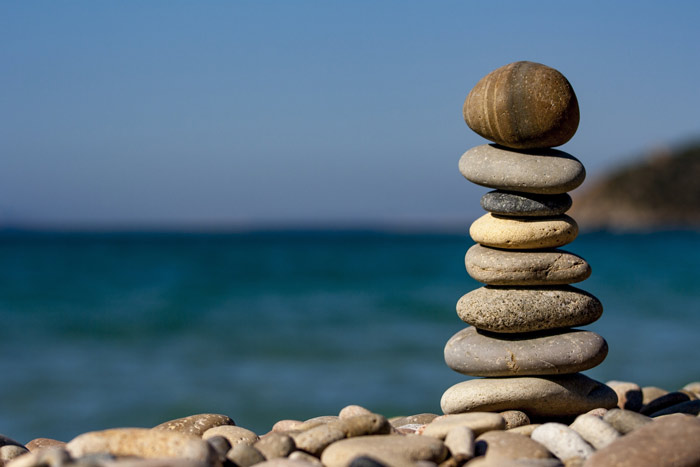 One natural conclusion through this yearly process of self-improvement is balancing all areas of a happy life is hard work.
The dichotomy is that to excel in one field, you must go out of balance in other areas for an extended period to form better habits.
Once you've gone through this iterative process of getting better, the new task becomes balancing everything into an integrated daily lifestyle that is fulfilling and healthy long-term.
When you feel out of balance, you must actively manage yourself to restore it before you tip the scales too far in one direction.
But if you choose to stay on the path towards success, regardless of how you define it, you'll discover valuable insights that guide you forever.
The challenging part of life is not finding the information to get you to the next step. It's the conviction to make hard decisions every day to inch closer to a target that's far away instead of looking for shortcuts.
My goal now is to share these impactful life lessons with you, because I know how much they've helped improve my game!
Click the link below to get a freelancing blueprint that leads you to predictable income: