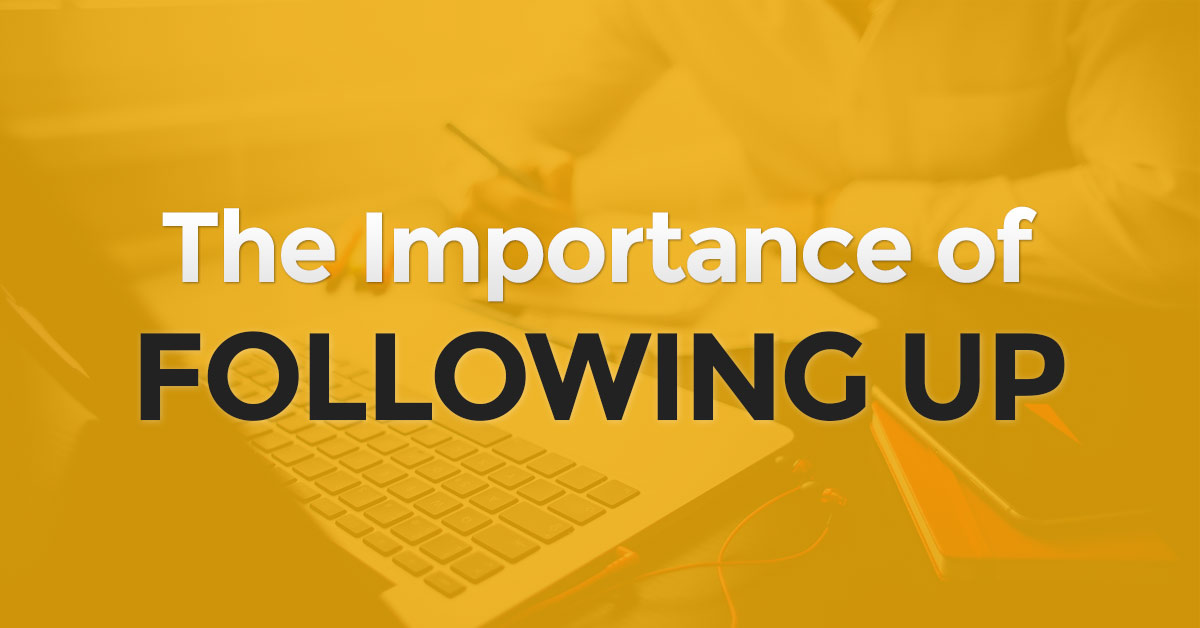 We all get lazy sometimes.
You may have taken a big step by cold calling or pitching yourself via e-mail to someone new. Maybe you even walked into a local establishment to talk with a business owner face-to-face. You feel like a breakthrough is coming. And as I always suggest, you should celebrate any small victory to balance the inevitable tough times when you work for yourself.
But then you wait.
Days or weeks go by, and you're wondering, "why haven't they made a decision?"
The reality of the situation is that prospective clients don't know you well enough. As much as you know you can help them, they have 1000 other problems that are consuming their mind.
Just like you and I, they get lazy, and they forget.
The only way to break through and grab their attention is by following up.
Sometimes I feel like I'm bothering someone when I do this, but if you keep the interaction brief, it's never the case.
If they are busy, they will just ignore your follow-up. Then you can follow up again until you get a final answer.
How I Landed Work with a Follow Up
A few years ago when smartphone apps started taking over the world, I would download new ones every week and test them out.
One of these apps was called Zaarly, which was like Craigslist for jobs that were posted on a map, so you could work with local freelancers. Zaarly still exists, although they have shifted their focus to home service experts only (hint: there is money in that industry).
I responded to an ad for a woman who needed help with her WordPress websites for her tutoring and coaching businesses.
She sent me an e-mail with her requested updates, and I responded with my ideas and a quote.
She ultimately decided to choose someone else…

However, given my tech background, I noticed that she had malware on her web host which was causing redirects to a Russian website when certain links were clicked.
Instead of moving on, I decided to inform her of this and recommend that she let me take care of diagnosing the problems so we could get her website cleaned up.

She was hesitant because her (uninformed) website hosting support representative told her the problem was on my end.

I knew that wasn't the case, and I responded strongly! Thankfully, she realized the severity of her issue.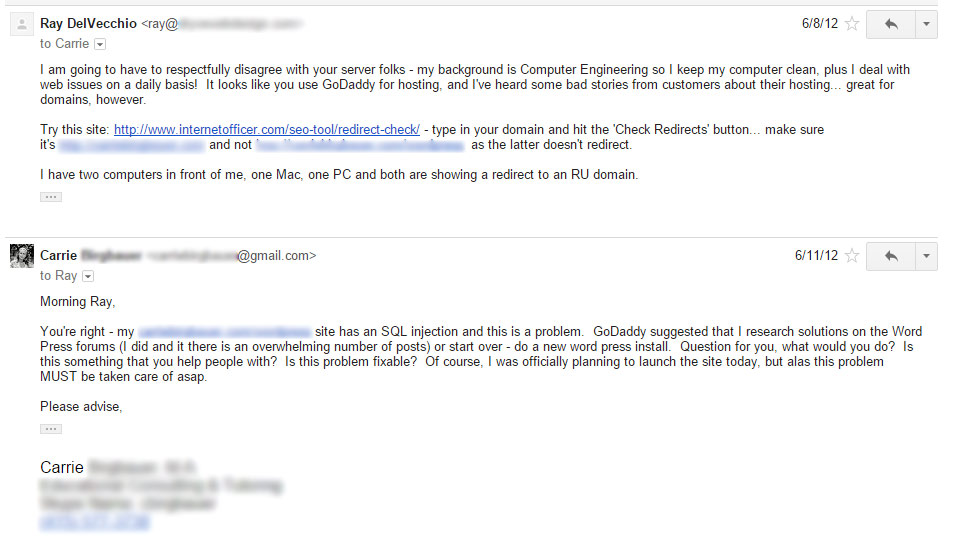 After going back and forth, she wanted to speak with me on the phone to make sure I was a real human before she gave me her account information.
Within a day, I began working to fix her issue and she sent me money through PayPal.
Lessons Learned
As always, you have to take away the little nuggets that help you moving forward.
This is what I learned from the experience:
Actually Care
Yea, it sounds simple enough. But it's overlooked and goes a long way. In my communication with her, I showed as much attention to her problem as I would if it were one of my websites. My #1 priority was helping her, not making money.
Be Persistent
I wasn't surprised when I got the job (and future work from her) because I kept in touch and followed up on multiple occasions.
Utilize Your Strengths
This was a problem that not everyone would be able to easily solve. But I'd like to think I'm creative with website issues, so finding a workaround wasn't too difficult. While you want to round out your skills, it's important to know what you are best at and make that a core focus.
Learn Your True Passions
It's OK to take on a job that you don't fully understand, because you may uncover a passion. On the opposite end of the spectrum, you may be passionate about a subject then lose it over time. But you'll only know your passions by doing. In this instance, while I successfully handled her issue, I had no long-term interest in being the "malware fix" guy!
Be Omnipresent
If I wasn't downloading and playing around with new apps, I never would have uncovered this freelance opportunity. All marketing is trying new things and seeing what works. The more you attempt, the better your chance of striking gold. Don't rely on one method to find new clients.
It can be small jobs like this which turn into relationships that catapult you to the next level of your home business.
So don't quit when you're halfway there. Keep working hard, keep making connections, and always follow up to squeeze the most out of your efforts.
15 Tools to Start Your Web Design Business
Want this helpful free giveaway or training?